Tasek Lama Recreational Park is a popular national park in the midst of the capital city or Brunei, Bandar Seri Begawan. With its green nature all preserved, it is a perfect haven for jungle trekking enthusiasts, outdoor fitness or those simply longing for a stroll.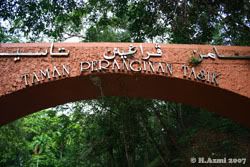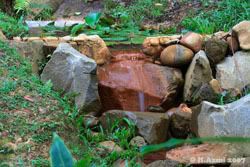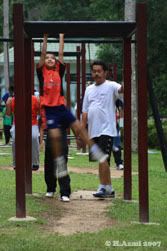 This is called a 'Pancuran' in Bruneian Malay. It's cool, fresh and crystal clear water springs from the hill side.
The final stop after climbing a tiring hill & trekking the jungle. Enjoy the light and refreshing mist from the waterfall to relax the tense muscles.
This pleasant jungle park is located a few minutes walk from the city centre. Take Jalan Kebangsaan out of the city centre past the Sheraton Hotel. About ten minutes walk from the Sheraton you will see a sign on your right in between two tall blocks of grey and red appartments indicating Jalan Tasek Lama. Turn right here and continue along this road to the entrance of the park. A red archway inscribed 'Taman Peranginan Tasek' signals the entrance.